Litter A
Kennel TARANAKI first litter A
born on 22nd of January 2017
---
During night on 22nd of January were born eleven beautiful puppies, 6 girls and 5 boys. Two of girls aren't standard (first has three crowns and second has a kinked tail). From boys we have three standard show quality beautiful boys and two not standard with kinked tails. We are so happy that mother Grace and puppies are all right!
See Photo Gallery of our first litter.
At the end of November 2016 a connection has occurred between Ch. Grace Eliviann from Valdštejnských and the beautiful JCh. Ch. Burberry Brown AtleticoAnn.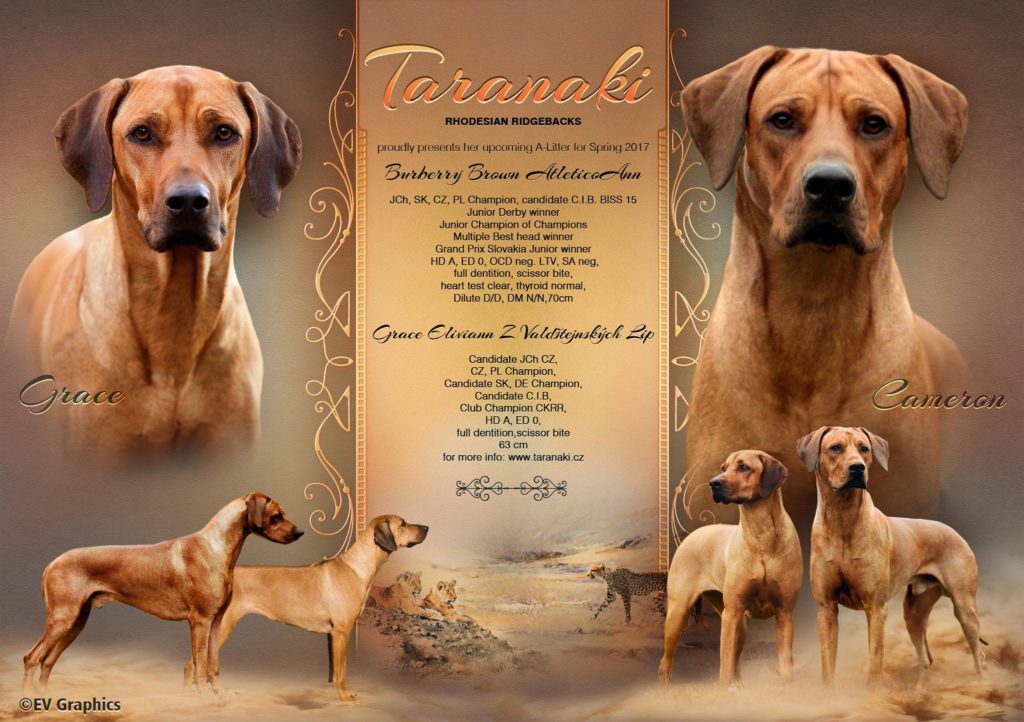 Burberry (Cameron)
(o: HARMAKHIS WISDOM Quentin, m: Dream of Glory HELYA RIDGE)
height 70 cm, HD A, ED 0/0, OCD neg, full dentition, Scissor bite, Dilute the status-DD, DM (Degenerative Myelopathie): N/N (clear)
Cameron holds the following titles: BISS 15, JCh. of Slovakia, CZ, PL Champion, Candidate C.I.B., Junior Derby winner, Junior Champion of Champions, Multiple winner of Best head.
Grace
(o: Worldwinner 2011, Int. Multi Grand Ch. FARMERS GUARDIAN African Akono, m: C. I. B, MCh., MGCh. Eliviann z Valdštejnských lip)
height 63 cm, HD A, ED 0/0, full dentition, Scissor bite, no allergies, thyroid gland in order
Grace holds the titles: CZ, PL Champion, Club Champion of CKRR, and candidate titles C. I. B, SK, DE Champion
She is a typical, balanced female with correct format, She has a correct ridge with crowns. Grace has a beautiful typical head, straight back and correctly set tail, correct angulation, and very good movement. She is balanced and calm temper, accustomed to other pets and small children.
Pedigree of the expected puppies you can see below.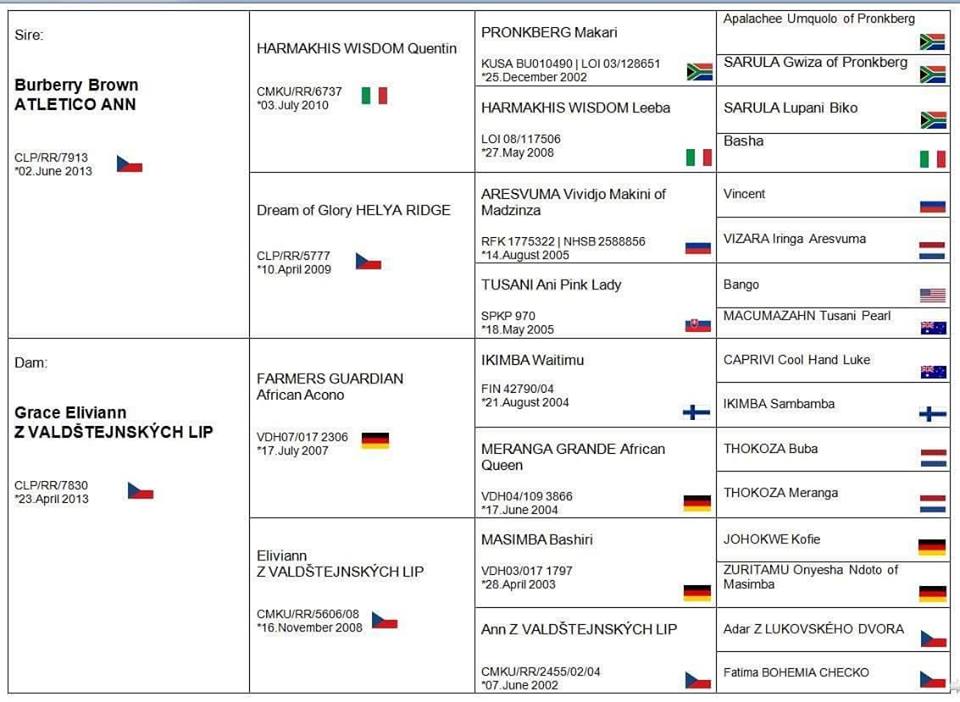 The photo gallery can also be found on Facebook!